WELCOME TO ARTS AND CRAFTS BY TABZTABZ
Vinyl Sticker | Snoey and Nixie
We start in a small Home Studio and named it Gaming Art Room Julie start to play computer games and at the same time enjoyed doing arts and crafts.
And here is the other view setup for Gaming Art Room.We do our business in this small Home Studio.
CUSTOMIZED ARTS AND CRAFTS
we do customized sticker label, printing, tags, gifts, diy and many more. Here's what we made for our clients. INQUIRE WITH US! Email us at artsandcrafts.tabztabz@gmail.com
sublimation mug for christmas gift and it comes with individual box good for gifts.

we can do any design you like, this is our own design approved by our client.

tote bag heat transfer vinyl and sublimation design.

here's a sample gift bundle for the mother's day gift. we can do other bundle gift.

sticker label, provide your design and I can cut in different sides, just informed us.

customized vinyl print and cut, this is waterproof sticker. client provide the design.

vinyl decal, name tag, name decal we can do it for you.

our car decal, client provide the design and we do the cut and ready.

car decal we can do different color for you multiple color up to 5 and it depends on the design.

customized heat transfer vinyl "baseball" team shirt (Jackals) shirts are cool-dri.

Love never fails sweatshirt heat transfer vinyl customized sweatshirt.

customized sticker label, you can provide your own design, fast and reliable.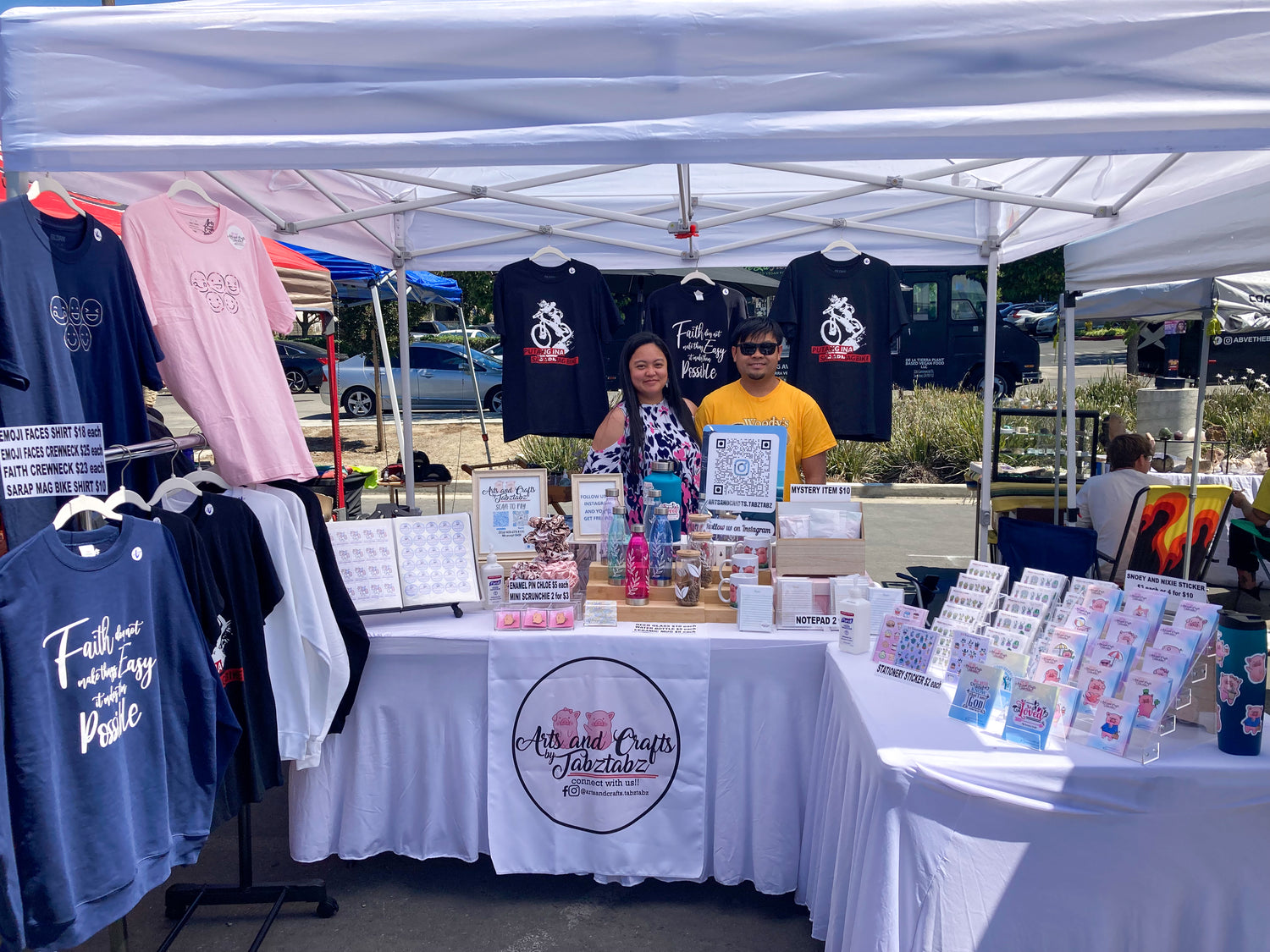 We also do our Pop-up Shop Events! San Francisco Bay Area, Silicon Valley, East Bay Area
SMALL BUSINESS

By shopping with us, you are supporting our small business and to grow our experience.

PACKED WITH US!

Every order is hand picked and packed with ECO-FRIENDLY in California, USA 🇺🇸

CONNECT WITH US

Follow us on Instagram and like our Facebook Page to stay in touch and get notified!